Patient safety experts know that reliance on memory can lead to errors.
In electronic fetal monitoring, clinicians of all backgrounds and levels of training must be able to work together effectively and efficiently whether at the bedside or during an educational opportunity. In addition to the Fetal Monitoring Pocket Guide, I've developed a number of tools that support clinicians in applying the NICHD terminology and utilizing the standardized approach to intrapartum EFM taught by myself and my co-author, Dr. David Miller.
While clinicians must of course use individual clinical judgment to evaluate EFM in context, the textbook and tools are provided to serve as adjuncts to individual clinical decision-making and can be used by preceptors and EFM instructors as part of an ongoing education and/or competency assessment program.
The tools can also be helpful at the bedside, used as part of a checklist approach to safety in EFM. Please note that orders can only be shipped to addresses within the United States.
8th Edition of Mosby's Pocket Guide to Fetal Monitoring: A Multidisciplinary Approach
by Lisa A. Miller, David A. Miller, Rebecca L. Cypher
This portable, practical guide provides a multidisciplinary, evidence-based approach to fetal monitoring that's ideal for use in the clinical environment.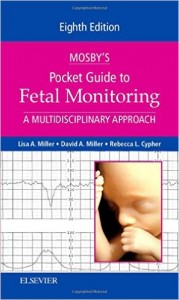 Offering a single definitive source for the description, characteristics, etiology, clinical significance, and interventions for every tracing in any clinical context, this new edition has been completely updated to meet the most current national standards.
Written by an expert team including nurse-midwife and attorney Lisa A. Miller, perinatologist David A. Miller, and PNNP Rebecca L. Cypher, this new reference includes:
Consensus guidelines from the 2008 National Institute of Child Health and Human Development (NICHD) workshop report and the expert Consensus Statement on Management of Category II tracings. This new edition reflects the latest in expert thinking regarding interpretation and management of intrapartum FHR patterns. The authors have also updated information on antenatal testing, labor management and the complete evaluation of uterine activity, as well as risk management and legal implications.
An evidence- and consensus-based model for multidisciplinary EFM interpretation and management.
Patient safety and risk management strategies with case study illustrations and legal commentary.
New Appendices with actual FHR tracings showing correct application of NICHD definitions and Categories, as well as proper application of standardized interpretation principles and a self-assessment that can be used for competency evaluation or as a study aid.
FREE DOWNLOAD: Miller Management Model
Download the free Intrapartum FHR Monitoring Management Decision Model here.
8th edition of Mosby's Pocket Guide to Fetal Monitoring $49.95
New! The EFM Workbook – A Practical Guide to EFM Definitions & Interpretation
by Janice Denny Gibbs and Lisa A. Miller
Developed as a companion workbook to the Mosby Pocket Guide, this workbook provides students and educators with much-needed practice tracings, full size and in color, all in a convenient ring bound format that will accommodate individual and group instruction. Introductory material covers the NICHD nomenclature, standardized interpretation and management, and conservative corrective measures (intrauterine resuscitation) followed by 30 practice tracings and corresponding answer sheets.
Each FHR tracing page provides 11 minutes (perfect for identifying a 10-minute window for baseline FHR assessment) of full sized EFM tracing with practice questions for applying both the NICHD nomenclature and the standardized principles of interpretation. Use the tracings in combination with the ReadRight EFM ruler for clarification and practice. Each answer sheet is a reproduction of the original tracing with graphic illustrations and expert commentary, including discussion of common sources of disagreement for clinicians. Review includes baseline FHR, baseline FHR variability, accelerations, decelerations, evaluation of uterine activity, and standardized interpretation for every tracing.
Make copies for group lessons, create competency assessment tests, provide practice for orientees, and study for the EFM certification exam – this workbook is a must for all clinicians involved in EFM!
The EFM Workbook : A Practical Guide to EFM Definitions and Interpretation $59.95
ReadRight EFM Ruler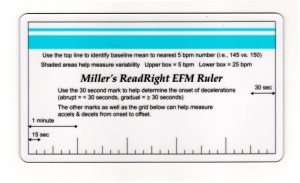 Developed to assist clinicians in applying the NICHD terminology to actual FHR tracings, the ruler is designed as a visual aid to determine:
Baseline rate
Baseline variability
Deceleration type based on onset to nadir (gradual vs. abrupt)
Watch a video to learn how to use the EFM Ruler.
$10 each
Or package of 50 for $400